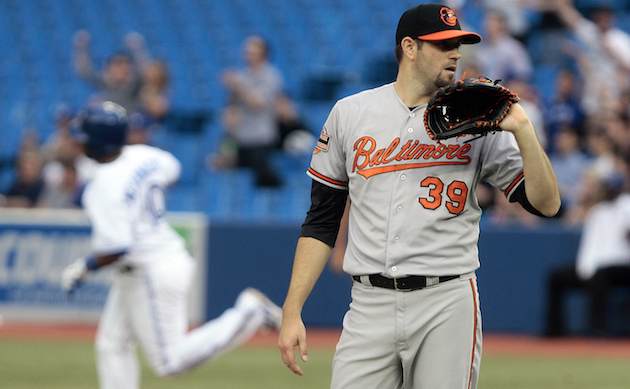 So, the Toronto Blue Jays have been accused, again, of stealing signs, this time by Jason Hammel of the Baltimore Orioles, who, through some thinly-veiled post-game comments, is referring to the ESPN story from last summer, which was just as ridiculous a story as it is now.  Really, just think about it.  If hitters are constantly staring out into the centre field seats, over 400 feet away, don't you think someone would have noticed by now?  Wouldn't the people in those seats get angry at the guy who kept putting his hands in the air to signal non-fastball pitches?  But, until yesterday's game, this was yesterday's news.
Now, as Dustin Parkes at Drunk Jays Fans points out, using actual research, Jason Hammel is kind of an idiot.  All of the home runs that the Blue Jays hit were not off of his breaking balls, but actually off of his fastballs… which pretty much kills his argument right there.  Also, the Jays only had two hits of any kind all night off breaking pitches, so if they did know what was coming, they did a pretty bad job of whatever cheating they were doing.
Jason Hammel is a mediocre pitcher who got off to a great start this year.  His team is a mediocre team that got off to a great start this year.  Both of those trends seem to be reversing lately, and this seems to simply be a case of a pitcher looking for excuses after a bad night on the field.
All of this said, I have found some evidence that perhaps the Man in White has existed for some time within the Toronto Blue Jays organization.  In fact, I am willing to go so far as to suggest that the Blue Jays have been stealing signs almost since the start.  Look closely at this 1981 Fleer baseball card of Jim Clancy:
You will see in the background of this photo that there are several Men in White in the stands behind Clancy in the Exhibition Stadium stands, all of whom were, presumably, relaying signs to Blue Jays hitters.  Could it be that these Men in White were responsible for the earth-shattering home run totals of the 1980 Toronto Blue Jays, featuring 30 from John Mayberry, 20 from Otto Velez, and 15 from Al Woods?  Al Woods!  He only hit 35 in his whole career!  And were they so bold as to sit so close, right there on the first base side as we can see in this photo?  Maybe there were others on the third base side so the left-handed hitters didn't have to turn around to get the signs?
Now, I don't want to stir up any more controversy here.  I am merely pointing out that this is not a new phenomenon in Toronto.  Maybe if we look closely into team records we will discover that there was more to the story of all those blown no-hitters by Dave Stieb, or that Joe Carter knew what Mitch Williams was going to throw in that 2-2 count.  Remember when everyone fell in love with Junior Felix so quickly in 1989, and then out of love so quickly again?  Perhaps this was completely due to the whims of the Men in White.
Of course, it could also be that white is just a really common colour for fans to wear to a home game.  Or maybe it's steroids.  We may never know the truth.